Live Life During Corona!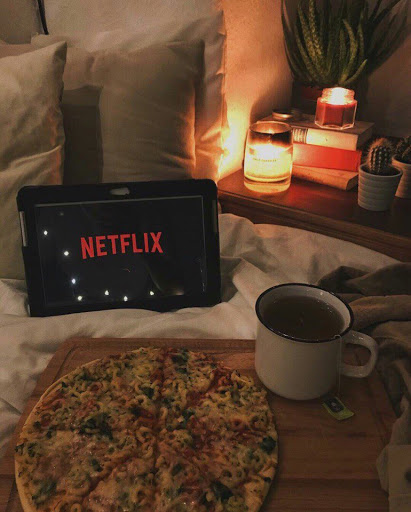 Friend 1: "Hey do you want to go to the movies with me?"
Friend 2: "Sure! When do you want to go?"
Friend 1: "Oh wait! I forgot they're all closed because of the Coronavirus."
This is just one of many scenarios that Covid-19 has impacted for both students and teachers alike.
Entertainment and business activities are more restricted and, in some cases, not possible due to social distancing requirements. Now we watch movies on Netflix, order in lots of pizza, and curl up on the couch for fun!
FSE instructional coach Ms. Kenepaske said she's had to become extra creative when it come to her job. "Covid 19 made me have to rethink how to build relationships with teachers. I make sure that I actively reach out to teachers and host a virtual teachers' lounge to have social interactions."
It's very clear that maintaining relationships with the teachers has become harder than before, but Ms. Kenepaske manages to pull it off in a fantastic way while social distancing.
As for our FSE student, Emanuel Salago (12), he tends to focus on completing any missing assignments on a new digital learning platform called Edgenuity.
Emanuel said, "I miss being able to attend school because all of the activities and sports we were going to do are canceled. Instead of that, I have to play video games with my friends because everything else is closed."
Even though fun activities are no longer as available, people can still cope with the pandemic by finding healthy and safe alternatives.
--by Anthony Ruiz